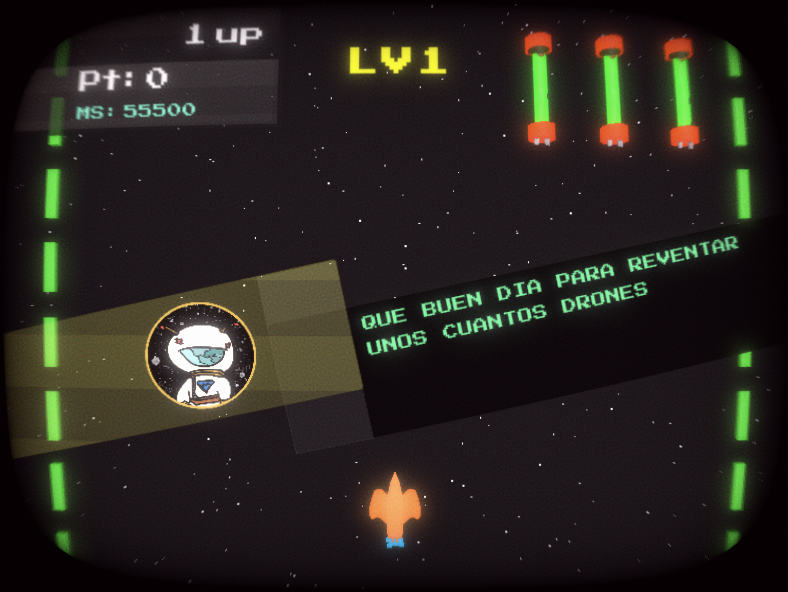 Get ready to embark on a journey of nostalgia with "Retro Space," a game that captures the essence of classic arcade experiences. Drawing inspiration from beloved titles like 1942, "Retro Space" takes you back to the glory days of arcade gaming.
In this space-themed adventure, you find yourself faced with a new law implemented by the Space Guard, banning all weapons. As a dedicated collector and master of weaponry, you cannot accept this injustice. Determined to reclaim your right to armament, you pilot your ship and prepare for an epic showdown against the Space Guard.
One unique aspect of "Retro Space" is the emphasis on avoiding direct confrontation. While battles can occur, the game rewards strategic evasion and maneuvering. Engage in thrilling space dogfights, but remember that victory lies in skillful dodging and timely decision-making.
Navigate through the cosmos using various controls, including WASD, arrow keys, or mouse for menu navigation. AD or left and right arrow keys control the horizontal movement of your ship. Right-click allows teleportation and weapon switching, resembling inserting a coin in the arcade era. Left-click unleashes your firepower, while the Escape key serves as the back button, returning you to the previous screen.
"Retro Space" is available on Windows, offering an immersive arcade experience. Test your skills, aim for high scores, and relive the excitement of classic space-themed adventures.
Genre: Adventure Tags: Arcade, High Score, Space
Embark on an unforgettable journey through space in "Retro Space." Will you defy the Space Guard, overcome challenges, and claim victory in this thrilling arcade adventure?